As with the other musicians featured in this series, there is scant reference to Florence MacBride in the standard literature on the history of the fiddle in Scotland. Despite this, we can safely say that she was one of the most high-profile Scottish violinists of the second quarter of the twentieth century on account of her many concerts, radio broadcasts and gramophone records, as presented here. One of the first female professional fiddlers in Scotland, she successfully filled the gap left by classical/schooled concert players William Mackenzie Murdoch and James Scott Skinner who died in 1923 and 1927 respectively.
We currently know very little of the background this accomplished musician and to date we have been unable to locate a photograph or image of her [1 February 2021: the photograph above was found in an early catalogue of Beltona Records]. However, some information can be gleaned from the official records. Bill Dean Myatt's Scottish Vernacular Discography (https://www.nls.uk/catalogues/scottish-discography) gives her birth year as 1900, which conveniently leads us to the birth record of a Florence McBride (note spelling) born at 499 London Road , Glasgow on 28 August of that year.
The 1901 Census shows Florence McBride aged 7 months living with her father Henry McBride, a grocer, her mother Euphemia (maiden name Pollock) and siblings John (age 8) and Winifred (age 4) in the same two-roomed tenement house. Henry had a shop at 297 London Road. [Slater's Royal National Commercial Directory of Scotland 1903, Part 1, p. 180] By the time of the 1911 Census the family were living in a 4-roomed flat at 1010 Cathcart Road, Langside, Glasgow. By then John was a civil servant and the two girls were at school.
Florence's older sister Winifred studied at The Athanaeum School of Music, Glasgow [Who's who in Music and Musicians' International Directory 1962, p. 134], at The Royal College of Music, London and with Benno Moiseiwitsch. At the RCM she gained The John Hopkinson Medal 'awarded to students for proficiency in playing the pianoforte'. The medal bearing her name was sold at auction in 2011. [www.dnw.co.uk Sold 13 July 2011, lot 1061]

She made her concert debut in 1918 and gave a second recital at Wigmore Hall, London on 7 March of the following year that was reviewed by Ezra Pound (R Murray Schafer (ed.) Ezra Pound and Music: The Complete Criticism New York, 1977, p. 186-7). She performed at the London Proms in 1923 and gave a recital conducted by Henry Wood in 1924, the same year that she made her concert debut in the United States. Her subsequent distinguished and interesting musical life in America is documented. [https://en.wikipedia.org/wiki/Winifred_MacBride]
[Photograph of Winifred from Wilmington Morning Star. 17 February 1946, p. 3B]
Unfortunately we know less about Florence's musical education. Did she also study at the Athanaeum? And in London? A report of a concert in West Lothian given in December 1922 suggests she had spent professional time there when it spoke of 'the Clever Young Scottish Violinist of the leading Chamber Concerts in London and the Provinces'. [Linlithgowshire Gazette Friday 22 December 1922 p. 1]
By this time she was appearing as a busy soloist in variety concerts throughout Scotland and beyond, a pattern that she maintained through the 1920s, 1930s and 1940s. A concert in Northern Ireland saw her described as a "phenomenal young violinist" [Northern Whig 5 January 1923, p. 4] while her performance at the Annual Gathering of Glasgow Caithnessians 'elicited enthusiastic applause, her manipulation of the bow being a source of unbounded delight' [Northern Ensign and Weekly Gazette 24 January 1923, p. 6] A review of a concert in 1924 mentioned her 'excellent tone and good sense of rhythm' in a programme that included traditional as well as classical pieces. [Edinburgh Evening News 26 January 1924, p. 11] and The Musical Times reported on a concert held in Glasgow in late 1926:
Two Glasgow players of more than local reputation, the sisters Miss Winifred Macbride (pianoforte) and Miss Florence Macbride (violin) gave a joint recital, of which the most ambitious number was the Cesar Frank Sonata for pianoforte and violin. The elder sister is a pianist with considerable technical facility and resource, and sound musicianship. The younger has a solidly-founded violin technique and a natural feeling for her instrument, but lacks purity of style and variety both in colour and weight of tone. [Volume 67 No. 10, 1 December 1926, p. 1128]
Florence made her first radio broadcast on 9 November 1925 playing pieces for Wieniawski, Frank Bridge and Brahms/Joachim. In the same year she played at an event to celebrate the life of champion of Gaelic song Mrs Colquhoun [Miss Phemie Marqui]) (An Gaidheal February 1925 pp. 67-68] with whom she performed on the same programme at the Highland concert at the Grand Feill in Glasgow in 1927. She went on to make frequent radio broadcasts of a variety of musical styles. [Margaret Patricia Duesenberry Fiddle Tunes on Air: A Study of Gatekeeping and Traditional Music at the BBC in Scotland, 1980-1957 Unpublished PhD dissertation, University of California, Berkeley. 2000, pp. 128-9. Peggy Duesenberry notes and quotes from Florence's Artist File held in the BBC Archives] In the 1930s Florence appeared as a soloist with the BBC Scottish Studio Orchestra and the Station Light Orchestra and featured in programmes of piping and fiddling with Robert Reid and Willie Ross. She contributed to incidental music and was heard in traditional music programmes alongside singer Kitty MacLeod and accordionist William Hannah and others.
She must have performed abroad as a newspaper report of a performance at Carnoustie reported that she 'captured the audience with the perfection of her art and technique" and with 'musicianly skill and an absence of florid effect' while mentioning that she had 'recently returned from a tour of America. ['Talented Artists at Carnoustie' Courier and Advertiser 19 January 19 1940, p. 7]
Florence recorded 6 sides of traditional music for the Beltona label in London in 1925 with pianist J Hunter Macmillan and several sides for Regal Zonophone in 1930. Regal Zononphone also released recordings by her under the name Roderick Gray. The following records were issued by Columbia were recorded in London in May 1931.
---
Piper's Weird / Mrs Scott Skinner / Kirrie Kebbuck / Spey in a Spate
From 78 rpm disk The Strathspey King. Columbia DB 592 matrix WA11550.
Talisker / Devil and the Dirk / Forbes Morrison / The Bride's Reel
From 78 rpm disk The Strathspey King. Columbia DB 592 matrix WA 11553.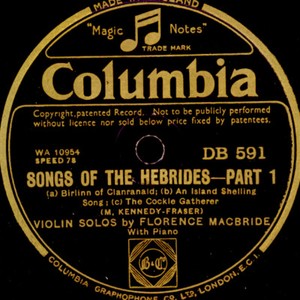 The Birlinn of Clanranald / An Island Sheiling / Cockle Gatherer
From 78 rpm record Songs of the Hebrides, Part 1. Columbia DB 591 (WA 10954). Music by M. Kennedy-Fraser.
An Eriskay love lilt / A Fairy Love Song / Road to the Isles
From 78 rpm record Songs of the Hebrides, Part 2. Columbia DB 591 (WA 10955). Music by M. Kennedy-Fraser.